Today Anne and I drove to Winchester to check out the Cathederal made famous in the song. Winchester is a very pretty town and we think we may go back there if the opportunity presents. This is the Cathederal.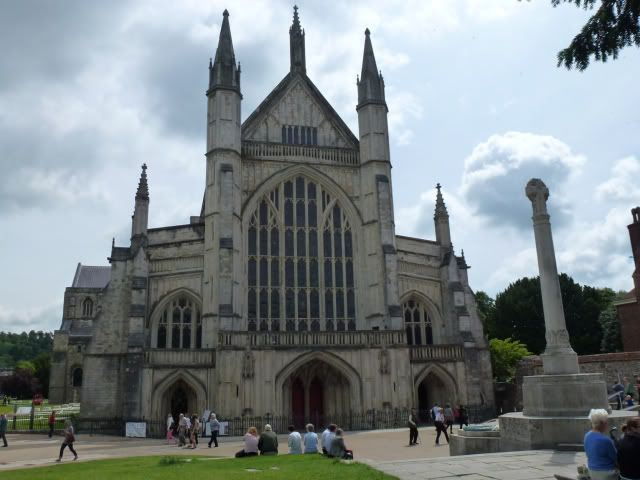 And this one shows a panel of the stained glass in the Cathederal
There is a very nice park surrounding the Cathederal and there were lots of people making the most of the fantastic weather we had today.
One of the highlights of our visit was the playing of all of the James Bond themes by a military band. They sounded great and looked fantastic in their uniforms
All in all a very pleasant day. We also went through the local museum which was very interesting and we visited the tourist information centre. They do not have tourist information centres in every town like we do, this is actually the first one we have seen. Will had a practice shoot today and he was not all that happy with the way he shot but I am sure it was very good anyway. We have decided to keep the hire car for another day just to do some bits and pieces. I plan on having a very easy day tomorrow, some packing up ready to head to Scotland on Wednesday morning but mostly just sitting in the sun, it is supposed to be another nice day tomorrow, reading my novel and relaxing. Hope all is well with you Till tomorrow Cheers Julie